Posted on 25. Sep, 2016 by Cansler Photography.
Probably the aspect of my job I enjoy the most is the opportunity to record milestones in my client's lives. Lily has been a client since she was a small girl. I have enjoyed watching her grow into a lovely young lady. A couple of years ago I had the honor of creating unique images for her senior portraits. When her mom called and said she wanted to create some formal portraits of the family to coincide with the Cotton Ball I was excited because I am doing more and more elegant classic formal portraits. I thought that since her name is Lily and lilies are her favorite flowers, we should incorporate them into the photograph. In talking with mom, I asked if she had any antique lace or throws we could also use. She showed me two antiques both handmade by relatives in the past. We chose the one that picked up the detailing in Lily's dress. My wife went and bought a vase that was perfect for the background and we created our set. Great images don't just happen, they take planning and thought. Every image tells a story, we want to tell compelling stories for our families.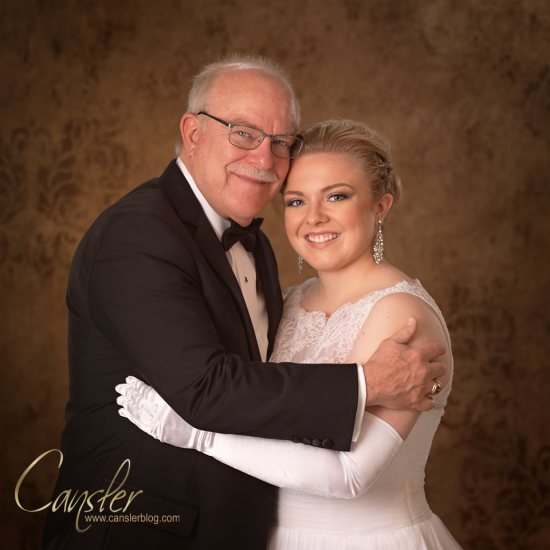 Posted on 24. Sep, 2016 by Cansler Photography.
One of many reasons I enjoy my involvement with the Chattanooga Symphony Orchestra is because of the interesting people I meet. Recently the phone rang and on the other end of the line was Douglas Hedwig. He shared that we had never met but he had been following my work with the CSO for several years. The reason for the call was he wanted updated PR images for his work. I invited him in to discuss what would meet his needs and thus began our collaboration. As I mentioned one of the best parts of my job is meeting new people and learning their stories. Douglas's was fascinating, after a distinguished career as a trumpet player with the Metropolitan Opera Orchestra (Lincoln Center, NYC), performing and recording with some of the finest conductors and soloist in the world he turned to another passion, classical composition.
The Chattanooga Symphony Orchestra invited Dr. Hedwig to compose a new work for the CSO String Quintet, and they will perform its World Premiere in February 2017.
At first, we discussed what he needed and then like most of us, I started thinking about me! I asked him how he crafts his compositions; does he do it on a computer or make notations on paper? He said normally on the computer but when he goes to the mountains the pencil and paper come out. Of course, I am dreaming up a photograph. I asked if he would be willing to let me play after we did what he needed. Douglas was a great sport and said sure. We sketched out what we were going to do and set up a time. The next day I called him back and said, "Would you mind bringing your horn with you". The day of the session he showed up with two horns, one over 150 years old, from the Civil War era, and his modern trumpet. We chose a desk with detailing that compliments the curves of the horns and creates a repeating pattern.
Needless to say, I had fun! Creating the image was a wonderful experience but more importantly, I made a new friend.
Thanks, Douglas Hedwig!
For more info on Dr. Hedwig: http://www.douglashedwig.com/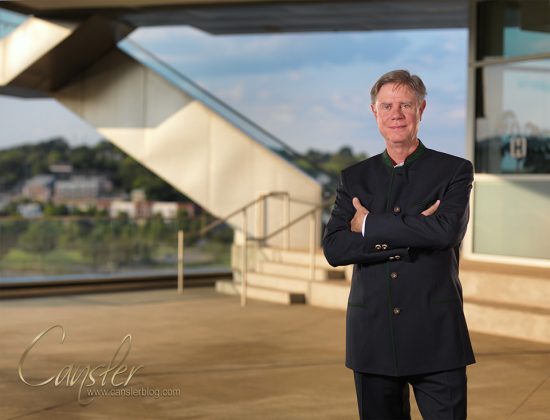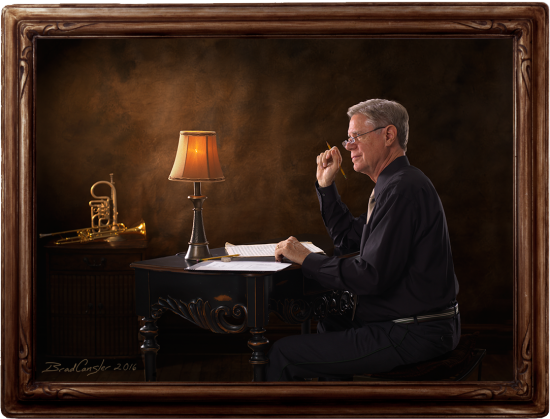 Posted on 03. Sep, 2016 by Cansler Photography.
12 years later! So exciting to walk into a home and see a portrait that I created several years ago, proudly displayed in a place of honor. Mom called because her oldest is a high school senior and will be leaving home soon and she wanted to recreate several of the images we had done over a decade ago to show how much has changed but still remains the same. Will and Carolyn were great sports considering the humidity was a 1000% percent and the temperature was awful! This was a fun image we did towards the end of the session just like the original session hug! Now mom will always have a visual reminder of how close her children are.