Posted on 18. Nov, 2016 by Cansler Photography.
After sharing some of our pet stories, I thought it would be fun to regale you with some of the times that Brad or his equipment has undergone a slight mishap during a session.  Most of these were definitely not funny at the time but created those memories you don't forget.
Imagine a little boy sitting in a chair behind his house, there is a swimming pool with a patio around it.  For Brad to get exactly what he wanted, he had to be right on the edge of the pool across from Jackson.  When working with children, you need to move quickly because they have short attention spans.  Brad goes into hyper-drive to go adjust a light and make sure everything is perfect.  One slight kick of the tripod leg and the camera falls, in slow motion, right into the swimming pool.  That might be the most costly session that Brad has ever done.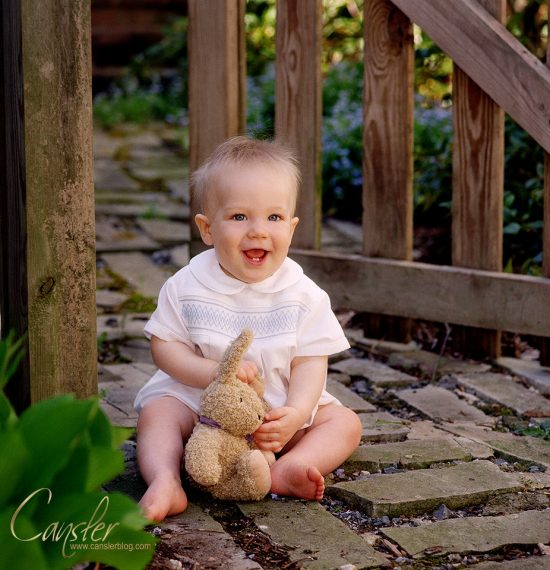 Then there was the time that Brad was photographing two cuties at a place we have always called Blue Hole.  The little girl decided to run around and explore instead of sitting with her big brother and she fell in.  Our hero, Brad, immediately jumped in to save her.  Not that it was deep enough for her to drown at that particular spot but definitely deep enough to get wet and cold!  This meant that both her and Brad ended up being wet.  After the shock of getting wet, there was laughter all around.  What a memory Mom and Dad have every time they look at that portrait.
It may sound to you like a pattern is developing.  See if you can find the common denominator – besides Brad.  While doing Morgan's senior photographs, there goes the light stand into the creek and a few sizzle's later, one fried flash.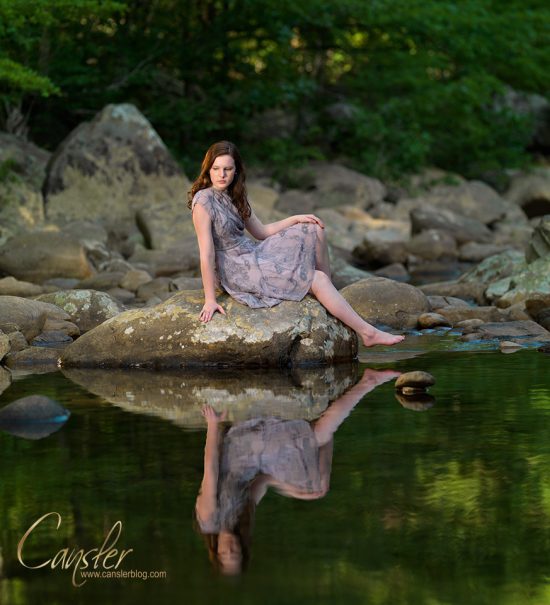 Obviously, with all these water accidents it makes one wonder whether he should really be photographing a high school senior under water.  Especially when he tells her mom to hold him under so he doesn't float to the surface.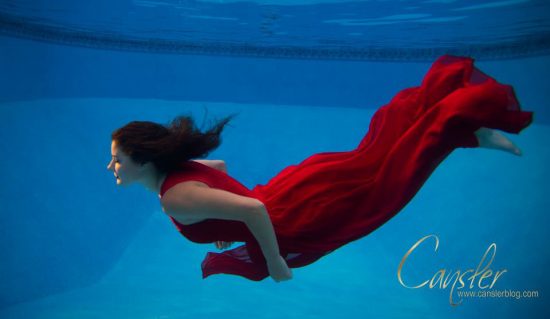 For a different kind of frying, we switch to fire.  Brad wanted a campfire and needed to light the family with flashes to mirror the light from the fire.  He positioned the lights carefully very close to the fire so they were hidden but gave just the right light, in the right place.  This beautiful fire turned out to be incredibly blistering – dad and son were expert fire builders.  The result was two melted flashes.  They were so hot, he couldn't even pick them up.  Thankfully, he had the image with the lighting he was looking for.

Posted on 31. Oct, 2016 by Cansler Photography.
Imagine not just one puppy, not just two puppies, but bringing in a whole litter of puppies to be photographed.  Or the time we thought it would be fun to do a pet promotion and said people could bring in their pets and one of them turns out to be a snake.  Talk about being in the dog house… not only did Helen have to hold and corral a slithery snake (her least favorite job ever) but then it peed on her.  Obviously, it was not potty trained.  We thought it would be fun to share some of our most pet-acular stories and some favorite images.  We've photographed many different types of animals over the years, some that seemed gigantic and cuddly while others were so petite and fiery.
Mom called and said she want to bring in her two year old and their Great Dane to create some memorable portraits. I had never worked with a Great Dane before but knew they were big. When this one came in he was large enough for Cory to ride him like a horse.  I put that into the gigantic category.  He was such a gentle giant, easy going and smart. I loved the contrast between the small boy and his very large dog!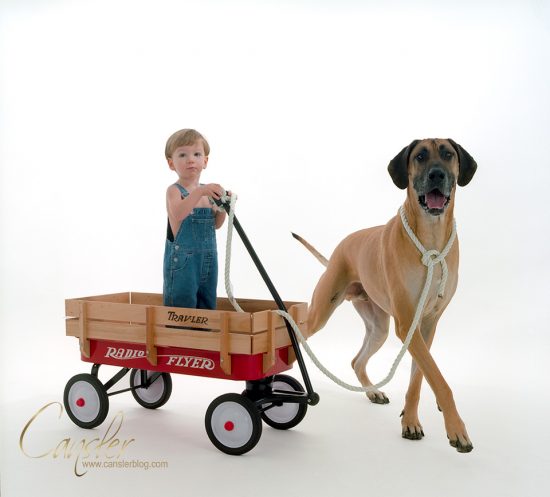 Horses have been popular and are probably the largest animals that we've photographed.  They take time and patience because you can't just pick them up and put them where you want them.  There are many times that a horse has been walked in circles because they walked too far forward and had to be taken in a loop to find the right spot again.  Not only do you want to get the horses attention, but their ears have to be just right too – horse people understand.  Fortunately, no one has asked for a studio portrait with their horse – at least not yet!
Brad created more of a fairy tale look for Kinsley with her Grecian gown and white horse.  With a lot of planning, checking out the location ahead of time, and climbing in the weeds for his lighting assistant, the result was stunning.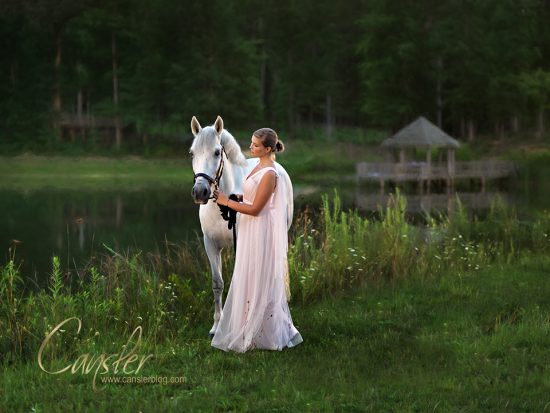 The evening was beautiful and we were excited to be able to create a beautiful art piece of Hannah and her horse.  However, the horse had other ideas!  No matter what we tried the horse would not look where we wanted, the ears were always wonky, we tried a feed bucket, car horn, pie plates, barking like a dog, etc., nothing worked.  Finally, mom said forget the horse let's just photograph the new puppy.  I suggested that Hannah hold the puppy and just see if the horse would look.  That was the ticket!  We were able to record the horse's reaction and create beautiful images.  Often it takes a massive amount of patience and thinking outside the box to get the perfect portrait.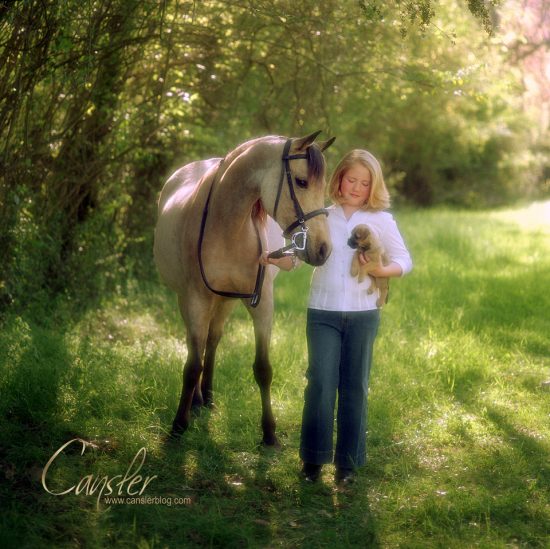 David called and said he wanted to do a portrait of his babies.  I had no idea we were talking about 10 Golden Retriever puppies.  The cuteness meter was tilting with these little ones.  These photographs bring back memories of the studio filled with laughter as three adults kept chasing puppies.  What a comedy it was trying to keep them in line and every time we were ready, one would start crawling away or in this case two.  Brad got the cute photograph they wanted with the whole litter and then he made one for himself that was too sweet of 8 sleeping puppies.

When a cat comes in that is larger than a lot of the dogs we photograph you have to sit up and take notice.  As you can imagine, when Sinclair first arrived he was very skittish, most cats are after riding in the car.  We spent about 45 minutes letting him get acclimatized to the studio and start relaxing.  He was happy enough when we took the photographs with his "Mom", but on his own, he was not so happy.  We spent a bit of time letting him run through the studio or as some might say, chasing him down.  In the end, he lived up to his name and struck a very regal pose.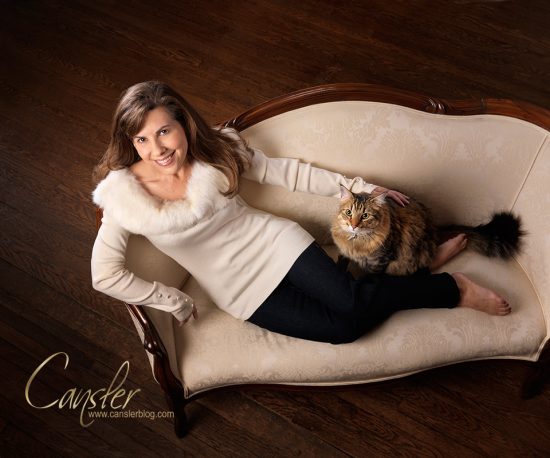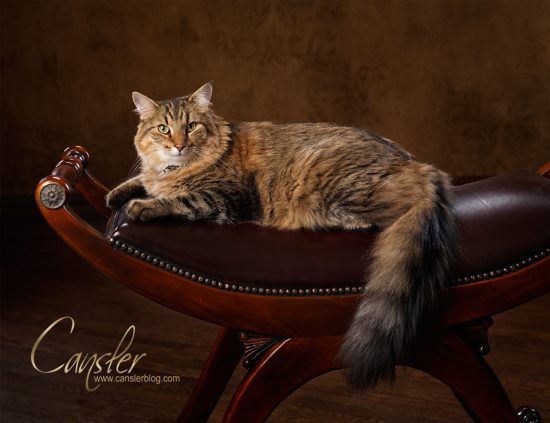 People without children sometimes treat their pets as their kids.  Likewise, sometimes the pets act like kids, very active and full of energy.  That is the case with these two cuties.  They were like a lot of brothers and sisters, arguing, fighting, and occasionally being sweet to each other.  They also had about as many clothes as your average child.  "Mom" and "Dad" had to hold them down to keep them from running away but we finally got their attention for this perfect portrait.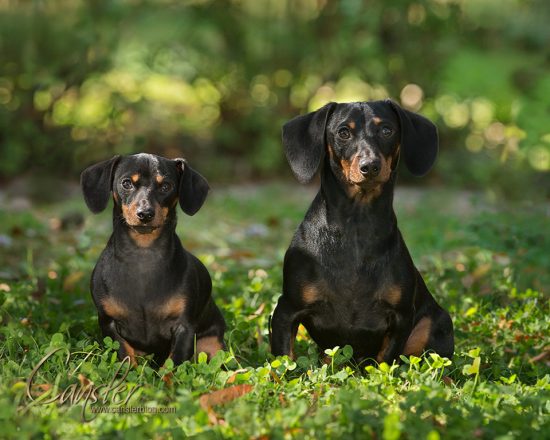 When you think about portraits, don't leave out these family members that you love so much.  Whether you do a portrait of your pet alone, with you, or with your kids, the memories you have when you look back at the portraits are irreplaceable.
Posted on 25. Sep, 2016 by Cansler Photography.
Probably the aspect of my job I enjoy the most is the opportunity to record milestones in my client's lives. Lily has been a client since she was a small girl. I have enjoyed watching her grow into a lovely young lady. A couple of years ago I had the honor of creating unique images for her senior portraits. When her mom called and said she wanted to create some formal portraits of the family to coincide with the Cotton Ball I was excited because I am doing more and more elegant classic formal portraits. I thought that since her name is Lily and lilies are her favorite flowers, we should incorporate them into the photograph. In talking with mom, I asked if she had any antique lace or throws we could also use. She showed me two antiques both handmade by relatives in the past. We chose the one that picked up the detailing in Lily's dress. My wife went and bought a vase that was perfect for the background and we created our set. Great images don't just happen, they take planning and thought. Every image tells a story, we want to tell compelling stories for our families.