Posted on 23. Jun, 2010 by Brad Cansler in He-Said-She-Said
The plan was to do sunrise photographs from Tunnel View – it was the road to Wawona just before the tunnel.  When we got there Brad decided that this was not going to give him what he was looking for so we jumped in the car and headed for Glacier Point.  With all the curves, it takes longer to get there than you think it could.  We quickly jumped out and we were able to get a couple of neat photographs of the sun just coming up behind Half Dome.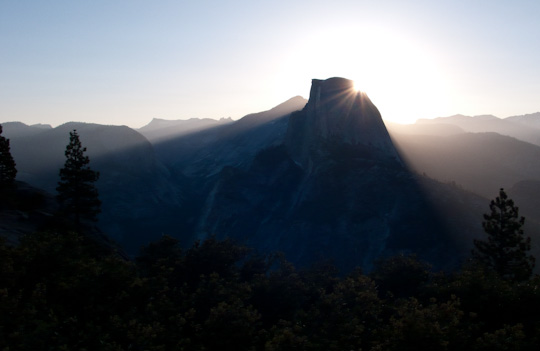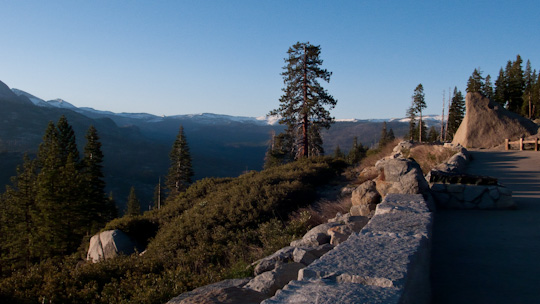 There were hang gliders getting set up for a morning run.  Syd was fascinated with all the chipmunks that were everywhere and we had a deer cross the path just a few feet in front of us.  Brad grabbed a quick tourist family photograph.  We are going to take the rest of our photographs with sunglasses on so you don't see the lack of sleep in our eyes.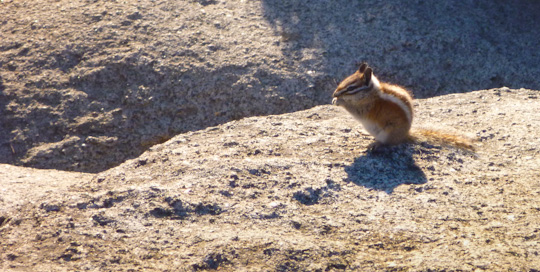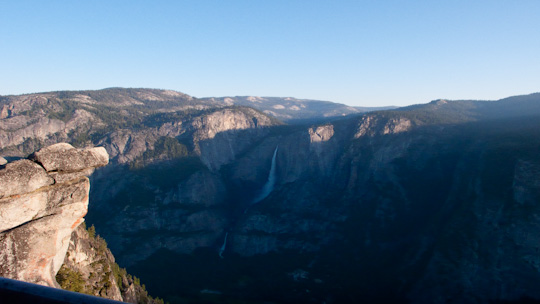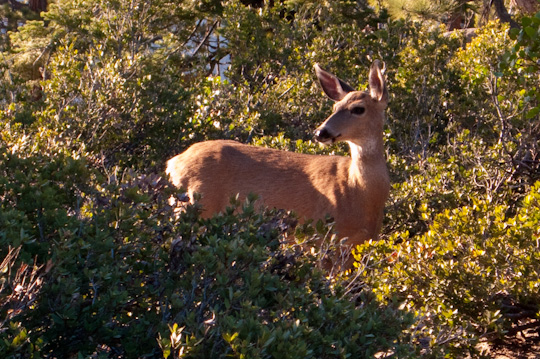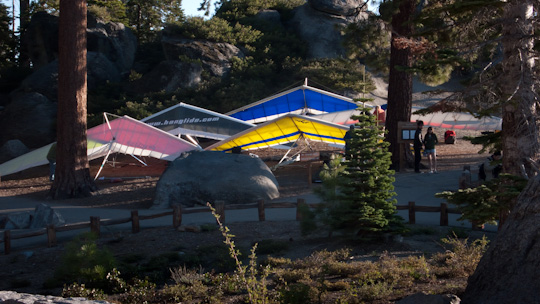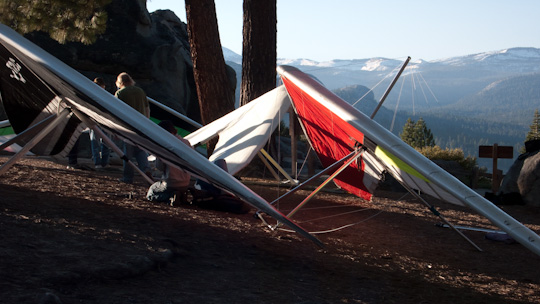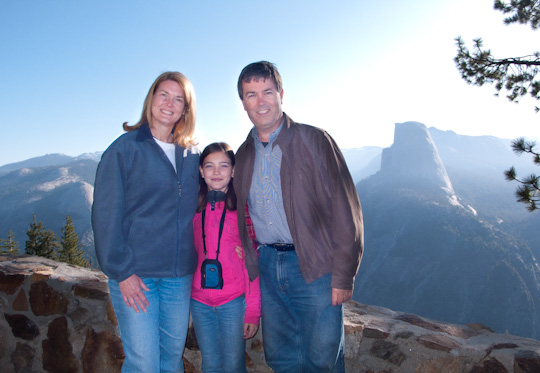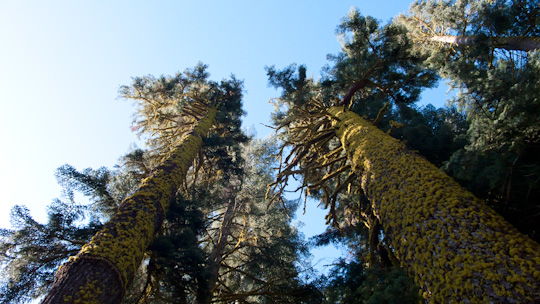 As we made our way back down the mountain Brad saw a place he wanted to stop.  He did a photograph that reminded me a little of Monet's water lilies.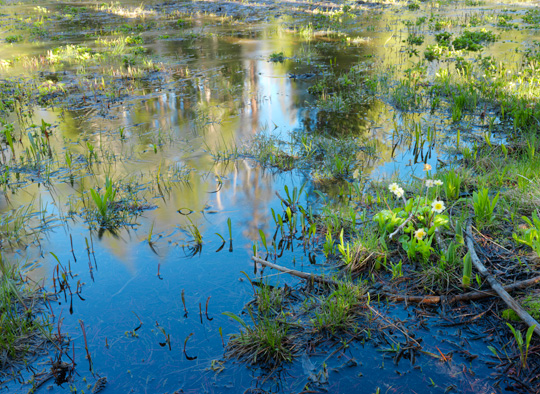 We headed back to our hotel to eat breakfast and before we set out to our new destination.  It was noon when we finally left Yosemite for Kings Canyon.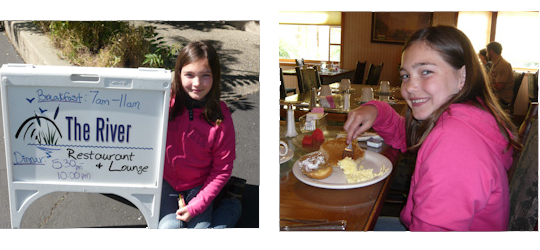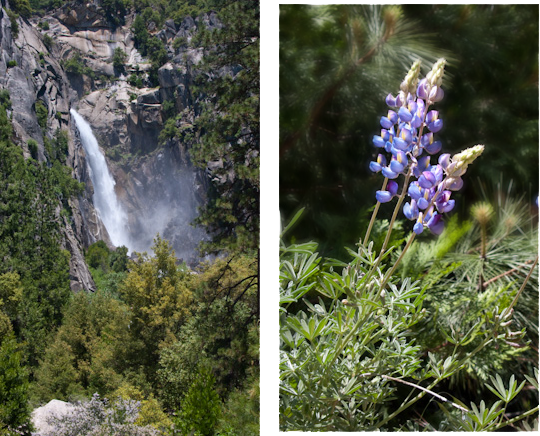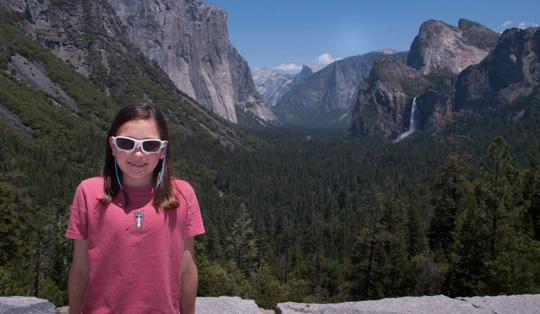 Once we had internet service again, I started searching for some place to stay.  No one had any rooms.  Finally, we got through to a place called the Snow Line Lodge just outside Kings Canyon National Park.  We stopped for a late lunch – early dinner at Baja Fresh in Fresno and then went by Trader Joe's to pick up some apples, bananas, peanut butter and cinnamon bread – everything we could want for breakfast tomorrow.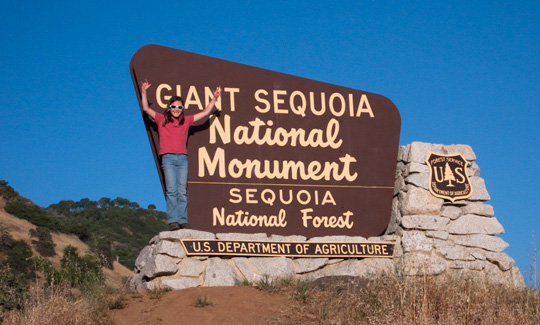 It took most of the afternoon to get to Kings.  We made a quick stop by our hotel to check in and then dashed back out again to go in the park and look for where we would do photographs the next morning.  We found a pretty nice place and then drove on down to Hume Lake.  It was dark when we got there and as we walked up to the lake there were several deer grazing right beside us.  The lake was so still and beautiful with the moon reflecting in the water.  This looked like it would be a great place to come back to.
By the time we got back to Snow Line Lodge we thought we would have to tiptoe to our room but there were still people awake relaxing in the hot tub.  At least we didn't wake anyone up this time.  Brad performed his nightly ritual with one new twist.  The hard drive on the computer was totally full so we had bought some DVD's in Fresno to write photographs on, then delete off the laptop to make room for more (Brad had packed light bringing only one external harddrive).  With the phone set for sunrise, we finally fell in bed.