Posted on 04. May, 2010 by Cansler Photography in Brad, Commercial, Portraits
Why aren't classical musicians accorded rock star status? It's certainly not because of lack of talent, it's not because they aren't fun people, what could it be? Several months ago when I first approached the Chattanooga Symphony and Opera Guild I was thinking about this very state of affairs. Why do  you have pop and rock musicians who have minimal talent that are very successful? The answer publicity and promotion.  The average person thinks that classical music is only for the elite or that it is stuffy. In my opinion that has been encouraged by many people involved with performing and promoting this incredible form of music. Why? Who knows. All this to say, I wanted to create images that showed our own Chattanooga Symphony Orchestra members to be fun, witty, unique and dramatic. Of course, I did this for selfish reasons. I wanted a project that would challenge me artistically and allow me to create images that could be used to help promote the CSO. I have been wanting to improve my photographic skills and knew that this would force me to be more creative.  It was a huge project coordinating schedules but I am thrilled with the results and wanted to share some of the images.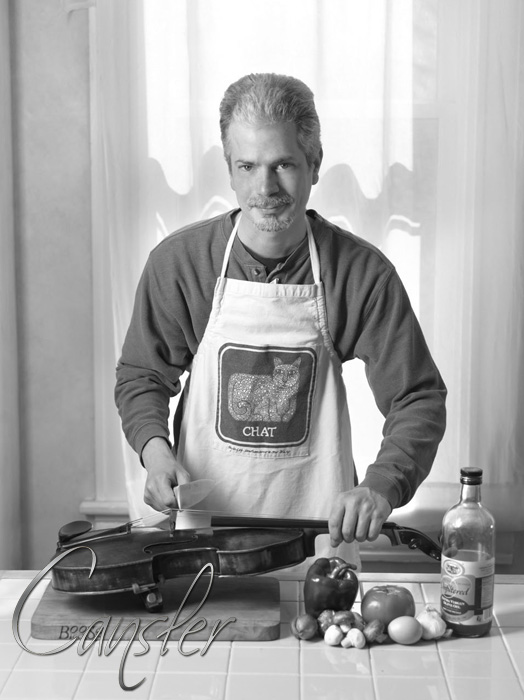 Robert Elder, Principal Viola
Robert loves to cook and wanted to do a whimsical image combining his two loves. We set up a table in the studio and he brought the fixings. My assistant Laura almost had a stroke because she was so afraid he would slip and cut the viola.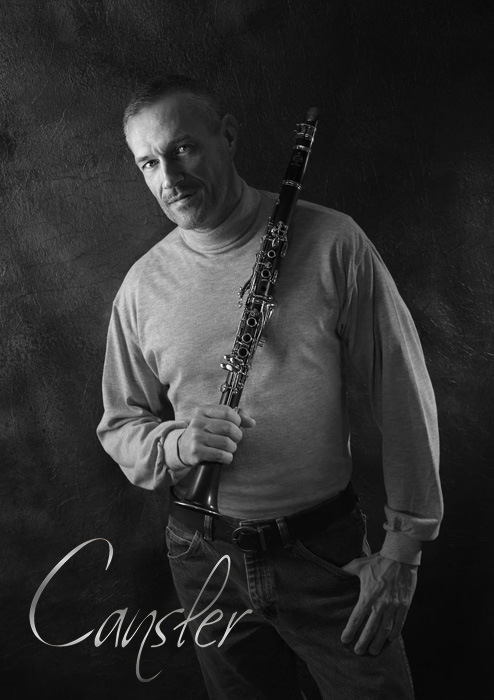 Robert West, Principal Clarinet
Robert was relaxed and confident during his session. We tried some poses with him sitting on the floor. Those were fun and playful but my favorite image was this one were he is holding his weapon of choice in a quiet cool manner.
Sheri Peck, Principal 2nd Violin
Sheri is probably still mad at me but hopefully she will forgive me soon! She was our first musician to come in for the casual photographs. We did some fun images but after looking at them I decide they were too pretty (not usually a problem). What I really wanted was something a little more edgy and dramatic. So I called and begged her to come back in for me to take more images. She was a great sport and we had fun for the second time. This was one of my favorites because of the motion and the angle.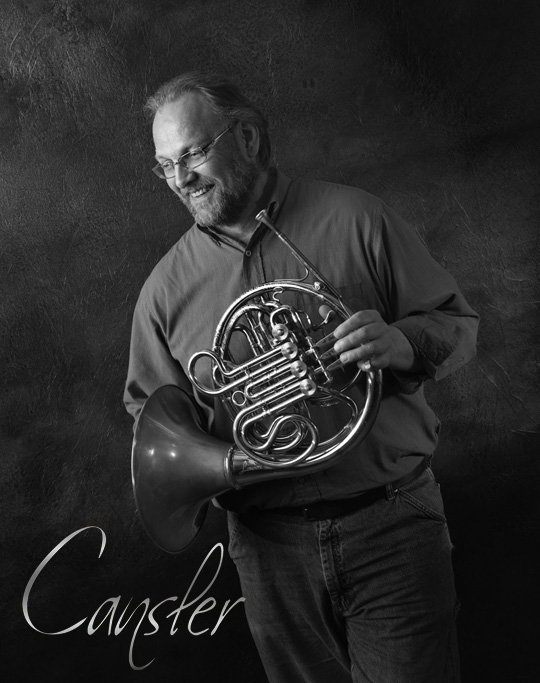 Gordon James, Principal Horns
When we did Gordon's formal image at the Tivoli, I just had this image of him as a happy and friendly person. When Laura my assistant saw the images she said "I know him, he taught at my high school". She had the same impression of his personality so when he arrived for the casual session I knew I wanted a friendly smiling image.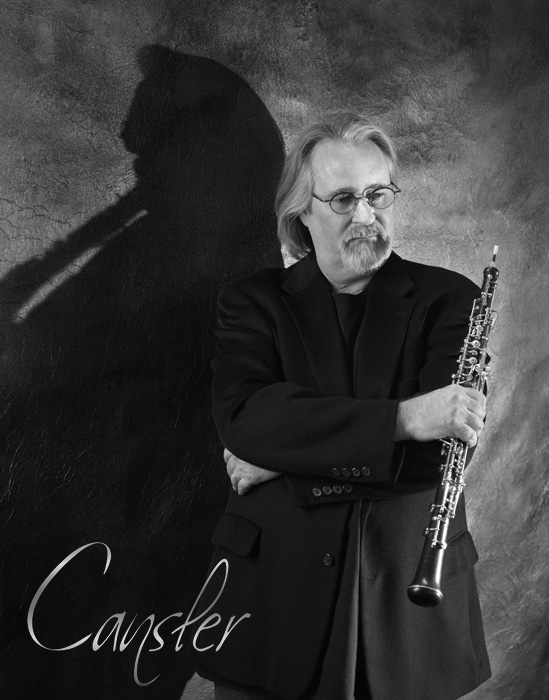 Robert Burkes, Principal Oboe
Chatter Magazine last month was writing an article about the upcoming  CSO gala that was to happen on April 24th.  I had given them all the formal images of the principal musicians but they called and asked if I had done any of the casual images that would work for the cover. I hadn't, so I called Robert and he came in on very short notice and we did several images. Chatter ended up going with the formal to keep it consistant with the images inside but thanks to Robert for the last minute session. My favorite was this one where I wanted the shadow to look like it was playing, Robert kept having to move his oboe slightly to give me the right look.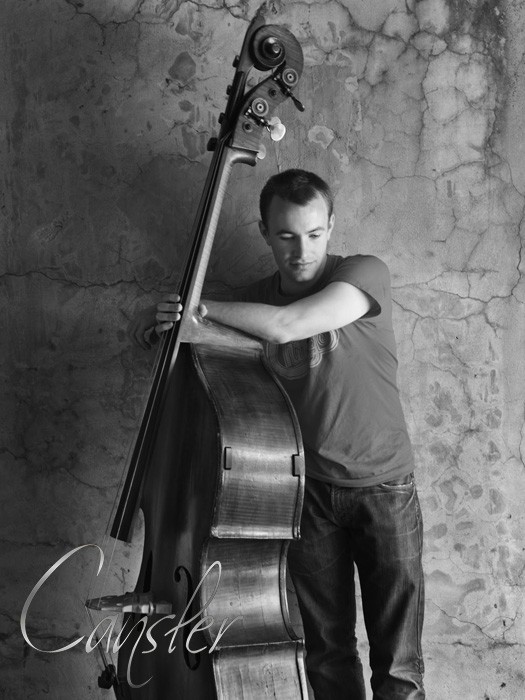 Joe Ferris, Principal Bass
Joe is new to Chattanooga and already he is a star! With the cover of Chatter Magazine under his belt he is unstoppable!  After meeting him during the formal session I wanted to do an image that was a little more urban and cool. We went outside and he lugged his instrument along to a wall with great texture. It was hot and muggy but Joe didn't complain and we created this shot and several others.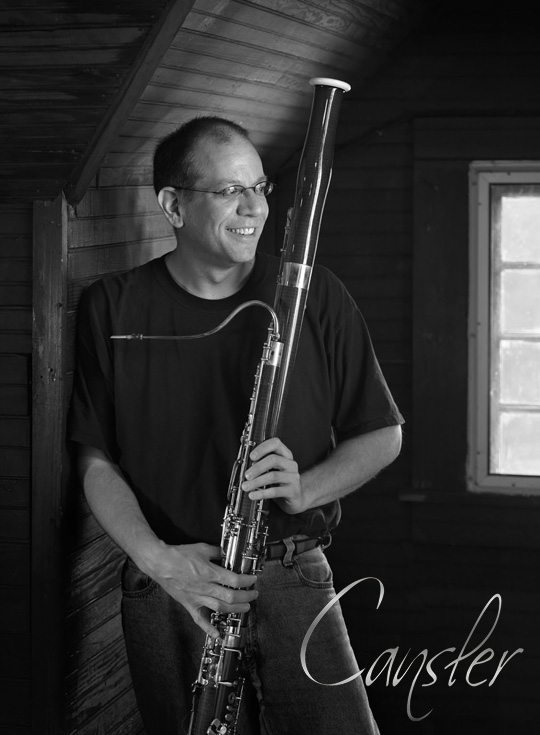 Eric Anderson, Principal Bassoon
Getting together with Eric took some finangling because our two schedules were not cooperating. When he finally came in, I hadn't decided what I was going to do. We talked for a few minutes and then I decided to take him up to the attic of the studio. The attic is were we have our computer workstations and it is generally a messy office. After making Eric swear he would never reveal, even under extreme torture, how messy it was on the 3rd floor we hiked up the stairs and cleaned out a spot, moved lights up a floor and got ready for our star. It doesn't show in the B&W, but in color the bassoon's color is repeated in the stained walls and ceiling.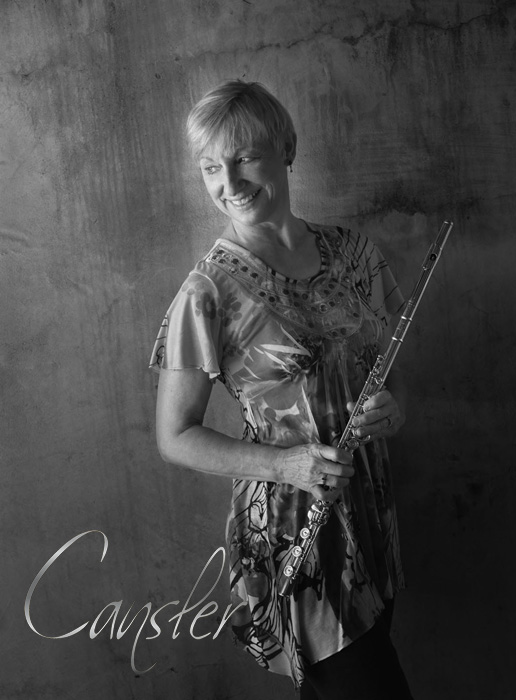 Janet Hale, Principal Flute
I have only had the opportunity to work with Janet twice but both times she was vivacious and outgoing. We tried a couple of images of her looking introspective and quiet but that didn't exactly capture my take on her personality. She changed into a more colorful top and that's when she came alive! We went outside the studio to a wall to pick up some contrasting ambiance. I liked the combination of worn and water stained walls that made the carefree almost whimsical quality of her look stand out even more.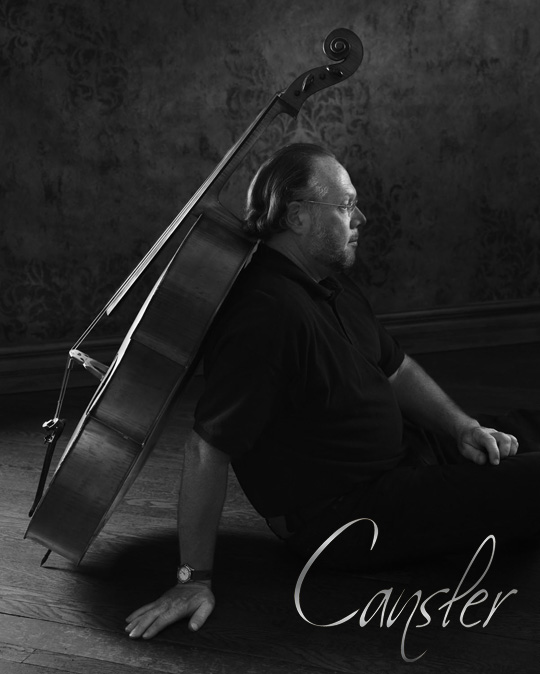 Eric Reed, Principal Cello
We were down to the wire because the CSO Guild Gala was coming up quickly and we were afraid that we wouldn't be able to complete our casual images of the ten principal musicians. Eric was the last one to come in and he was a good sport to let us do it on short notice. I knew I wanted to do something a little more unusual for him. I had looked at different celloists images to get inspiration but didn't see anything that was more than just average. I wanted something a little more edgy. Well when Eric walked in I had an idea pop into my head to prop the cello against his back. The cello is precariously leaning. Laura my assistant was just barely out of the frame ready to grab the instrument if it started to move.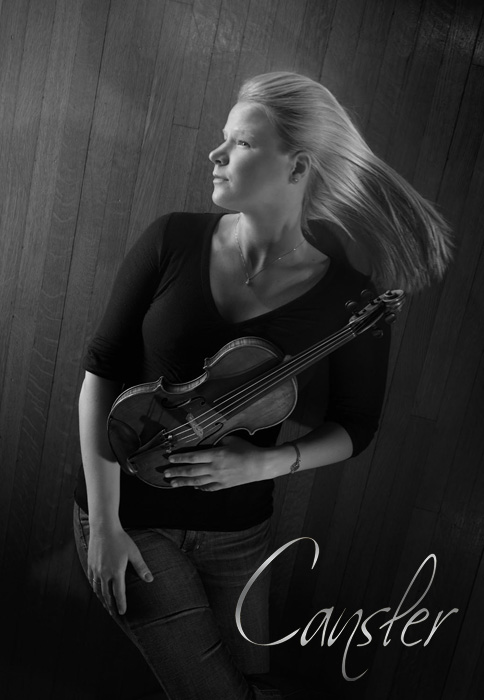 Lisa Dempsey, Principal 1st Violin
When Lisa came in for her casual image we sat down and talked for a couple minutes before I sprang my crazy idea on her. I thought that something with her lying on the floor would be different. I wasn't sure how she would react but I thought that she would go for it. She liked the sound of it and was all for doing something different. So she made herself at home while we moved lights and brought out the ladder. If any of you have ever held a camera at arms length you know how quickly your arms get tired. Well multiply that by a bit, as a Hasselblad with a big lens weighs a ton. I think that Lisa's main worry was that I might drop the camera on her! It was an interesting session; I am holding the camera at arms length, trying to make sure that it is in focus and guessing at where I am aiming the lens. There were images that definitely had the top of her head and other body parts cut off but we ended up with several dynamite photographs with this being my favorite.