Posted on 28. Oct, 2009 by Cansler Photography in Family
Brad and I drove out to Chickamauga Lake to do a photo session with the Coffelt family. It was a perfect day and we knew we were going to get some really great shots with the sun just about to disappear. The best part about my job is getting out of the office and getting outside on pretty days, which seem to be few and far between these days with all the rain. While the family was getting ready, Brad and I were setting up all our equipment and playing fetch with a couple of persistent dogs (I later learned that they will play fetch for hours!) All three kids did great and you could really see how much the two big sisters, Kate and Ellis, love and care for their new baby brother, Carter. However, we had to pull out all the stops in order to get Carter to smile and look at the camera. Brad was making every kind of animal noise he could think of, definitely getting some smiles out of Carter and everyone else! I have to admit they are pretty funny. At one point Brad was making noises, taking pictures and throwing the stick for the eager dog at his feet, all at the same time, talk about a multi-tasker. Even the parents joined in on the silly fun and really made the kids smile when we were just getting some photographs of the three of them. It is so nice to see a family getting along so well, really caring for each other and most importantly having fun!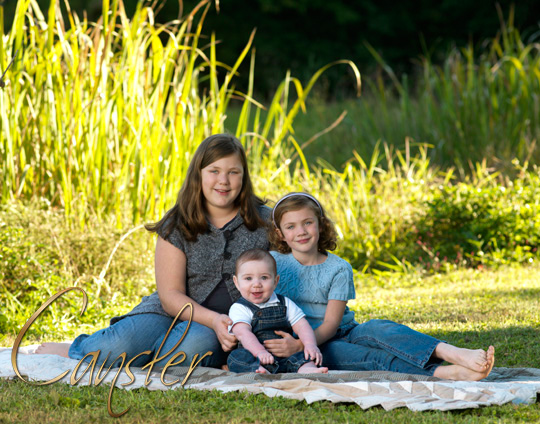 So, after some great shots of the family on a blanket in the grass we moved over to the dock. This time instead of chasing the sun like we normally do we were waiting for it to go down. We had about 5 minutes after the sun went down to get some photos of the family on their dock, so everyone was waiting perfectly in position.  They were really patient while we were waiting for the sun that was blinding them in the eyes to go down and relieve them! Once it finally said goodnight we captured some great candid photos of all the family looking at Carter, the latest addition. It was such a pleasure doing a session with the Coffelts; they are so sweet and full of love!