Posted on 02. Nov, 2010 by Cansler Photography in Brad, He-Said-She-Said
Earlier this year I asked my daughter Sydney what she was going to dress up as this Halloween. She immediately said a tree nymph. She loves stories about fairies and nymphs (along with stories about anything else you can imagine).  I asked her why she chose a tree nymph and her reply was "well I already have the costume from my dance recital, all I need to add is flowers in my hair".  It is wonderful to sometimes see a practical side to her (which is not that often I might add).  My only question was how are you going to stay warm? She hadn't thought of that so we came up with a backup plan just in case it was cold. Fortunately it was warm so she was able to go trick or treating as a tree nymph.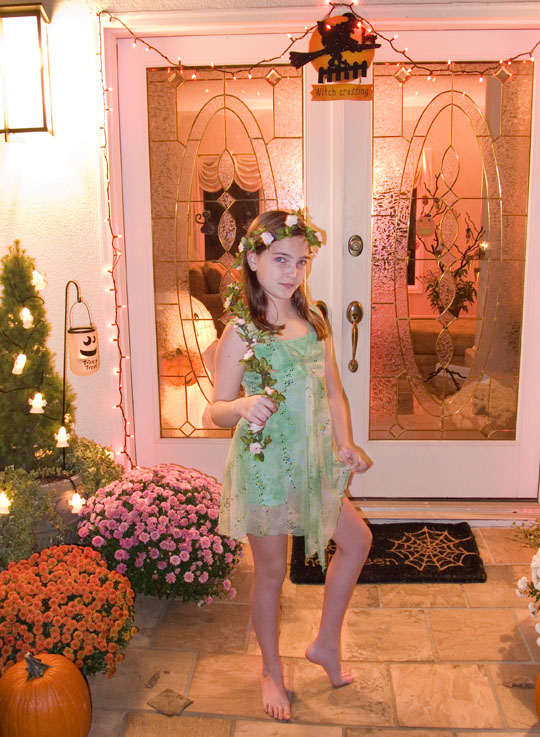 She likes trick or treating but really loves passing out candy to all the little monsters that come to our house. This year the crowd seemed smaller so we were left with lots of candy.  Every Halloween my family comes over to our house for food and to watch Sydney get dressed up. This year was no exception with once again the whole gang at our house. My sister and her husband from California, my older sister and her boyfriend from Soddy Daisy and  my parents all came over.  Sydney had one of her best friends to share Halloween with and they had a blast, there was a lot of noise, laughter, running around and just generally getting into trouble.  The adults weren't any quieter with everyone talking at once (loudly) trying to be heard, talking about everything from politics (a no no around here) to gossip and anything else you can think of.  All too soon the evening drew to a close, the kids were still rowdy and not ready to go, we knew  there would be trouble tomorrow, if they didn't get to bed soon.  Everyone said there goodbyes and it was off to bed for Sydney.