Posted on 23. Jun, 2010 by Cansler Photography in Brad, He-Said-She-Said
The morning broke cool and breezy. Yesterday we saw something that wasn't here last time we visited, bike rentals.  At least if it was, it wasn't so prevalent. We had decided that we were going to rent bikes and "Bike the Bridge" so we caught the cable car and headed back to the wharf.  We stopped at Bike & Roll, picked up our bikes and we were off.  We didn't get far before we had to stop and get a National Park stamp at the Maritime Museum.  Then along the wharf and up to Ft. Mason.  This was not a speedy trip since with three photographers in the family, we had to keep stopping to take photographs. It was fun and we didn't have an agenda so no one minded.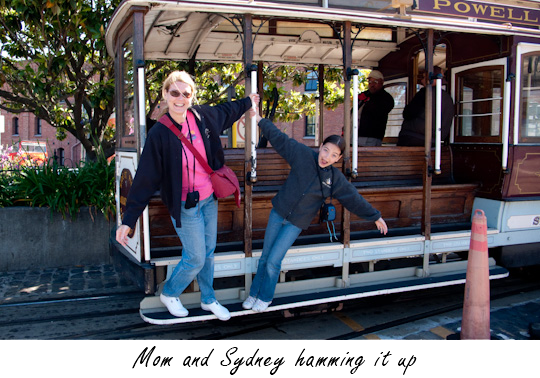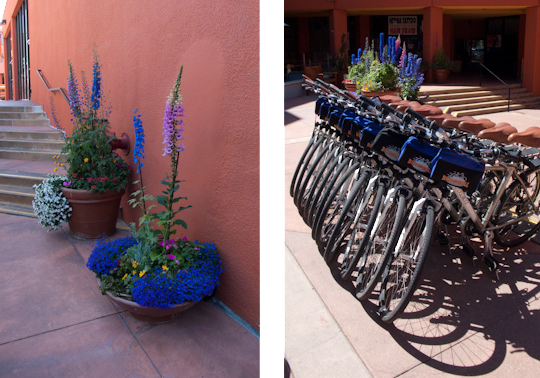 We stopped at this community garden on the property at Ft. Mason; we had found it by accident the last time we were here.  It was fun walking through and then we ran into a guy who was head of the community garden  association. He told us history of the garden which was fun to hear (there is a seven year waiting list to get a small plot).  By this time it was early afternoon and when he told us about the farmers market that was down the hill, well you know us and food, we had to check it out. Bread, cheese and thee is all I need. (I think you are supposed to have some wine in there somewhere but we were fine without it.) Well, throw in some fresh strawberries, fresh cherries, fresh picked baby romaine lettuce and you have a feast!  What a great lunch and fun too.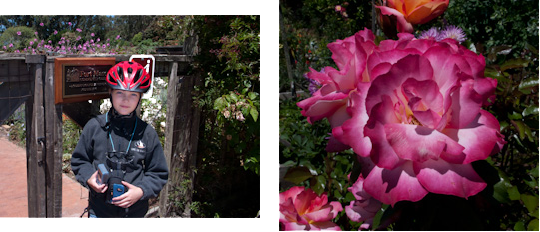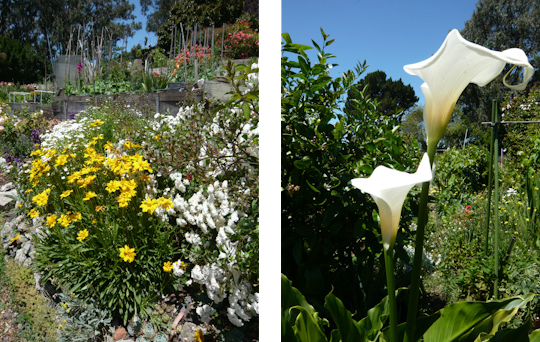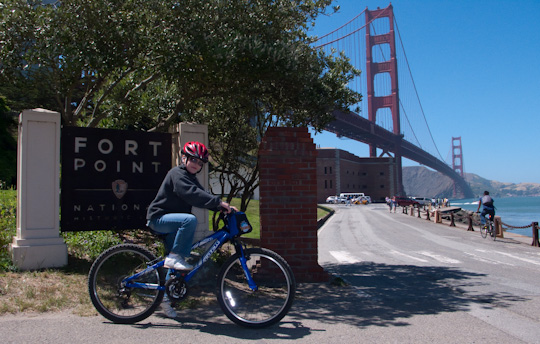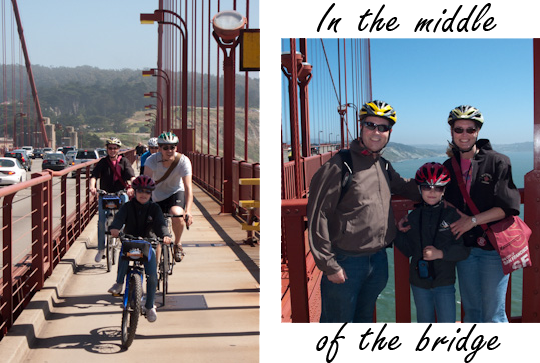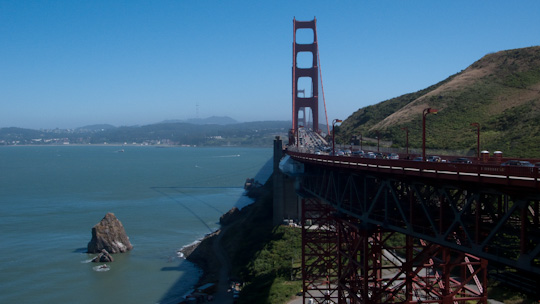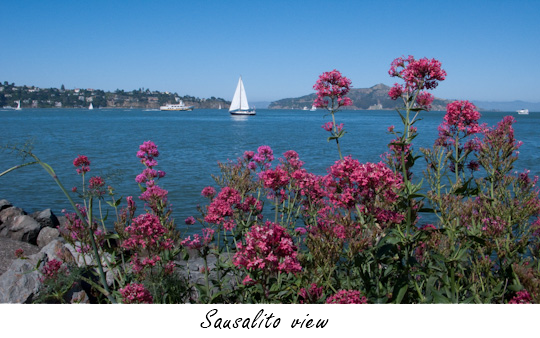 Back on the road (or bike path) we saw kite surfers, a sea lion swimming right next to the sea wall, and enjoyed the breeze in our hair.  Stopped to get a Golden Gate cancellation stamp and take more pictures. Finally, we were on the bridge.  What a great view and fun ride.  On the weekends the bikes ride on one side and people walk on the other so we didn't have to worry about foot traffic.  Once you are over the bridge you have to carry your bikes down steps, go under and then carry your bikes back up steps on the other side.  Down wasn't so bad, up was a little challenging.  Then you get to ride down hill all the way to Sausalito.  You may be thinking, what about the up-hill all the way back.  They've got that covered.  Once you get there, you take the ferry back to the wharf.  We caught the ferry at 6:00 pm. so by the time we got back, turned in our bikes and caught the cable car, it was late again.  We had made a full day of our bike ride.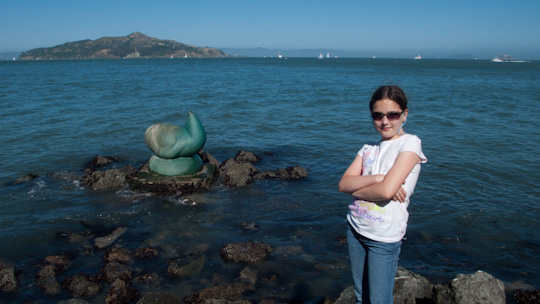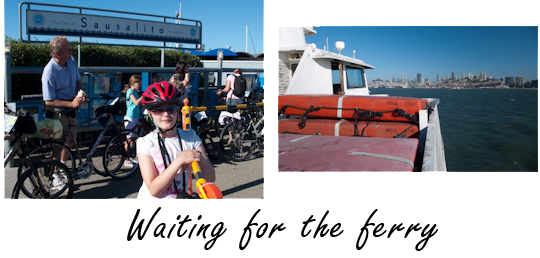 You may notice the switching from short sleeves to jackets and then back again. For anyone who has been to San Francisco you will understand. The temperature can vary 15 to 20 degrees in the space of a couple of blocks. On the bridge it was actually cold but when we got to Sausalito it was warm (mid seventies). The ferry ride back was quite chilly because of the wind off the water.
(Oh yes, I almost forgot, and one little stop at Ghirardelli Square where we all split a brownie ice cream sundae.  We couldn't leave San Francisco without making this stop.)