Posted on 23. Jun, 2010 by Cansler Photography in Brad, He-Said-She-Said
I have reordered all these vacation posts from their original posting order because it makes it easier to view. Now you can just scroll down.
We were able to get a great rate at the last minute at the W Hotel just up the block from SFMOMA. We didn't get up too early but dragged ourselves out of bed to go eat breakfast at a diner we have eaten at every time we have been in San Francisco over the last 10 years. Dottie's True Blue Cafe. We discovered this backstreet cafe about 10 years ago and have taken friends there and recommended it to more. Well on a Saturday morning the wait was at least an hour long.  Sydney didn't remember eating there when she was 3 1/2 yrs old so was not too keen on waiting that long since she was "starving and about to perish" (her words). We convinced her that it was worth the wait.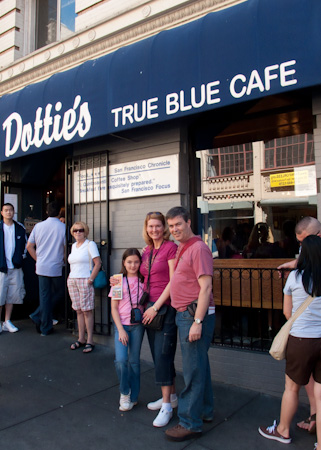 One of the cool things about traveling is the wonderful people you meet. While we were waiting in line we struck up a conversion with a nice couple, Evan and Michelle from Orange County, CA. It was very interesting hearing about what he does and some of his travel stories. She  also told great stories about their families and before we knew it the hour was gone.  If you ask Sydney now, she will tell you that the wait was worth it! I had a frittata to die for, Helen had pumpkin french toast and Sydney had a huge fresh warm muffin that was killer. We all shared so we got to try everything.

We caught the cable car and rode down to Fisherman's Wharf to take Sydney to see the sea lions and to watch some of the street performers at Pier 39.  She got a big kick out of the ride since she didn't remember this at all from her first trip. On the way to the pier we came upon a street vendor that was painting with cans of spray paint.  We watched him for about twenty minutes and then had to get in line for one of his paintings. It is amazing how people everywhere have so many unique talents.  Our artist was Paco and he painted space images.  While we stood there, every image he created was totally different from the others.  After each one, I would think, I hope ours looks like that one.  When it was Sydney's turn he asked if it was for her and she said "yes sir."  He preceded to spray a swath of pink paint across his paper which in the end became the foundation for a universe in space.  It's not the kind of painting that is worth $500 or $10,000 but it was a very entertaining hour and will bring us great memories. Sydney can't wait for her dad to frame it and has the spot picked out for it to hang. (Post Script:  We had to take care that the painting was a top priority the rest of the trip to make sure it wasn't damaged.  Yes, it made it home in one piece.)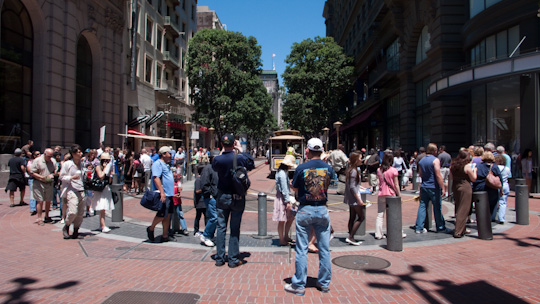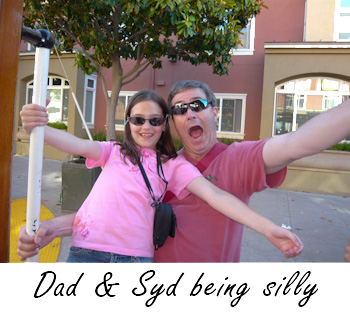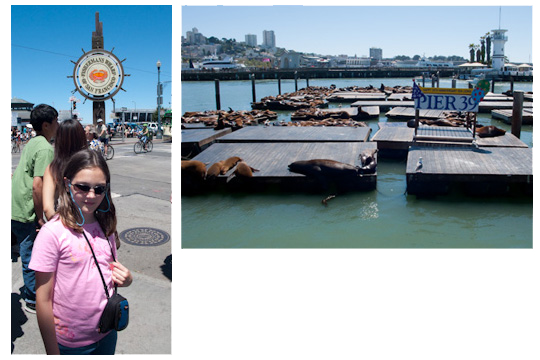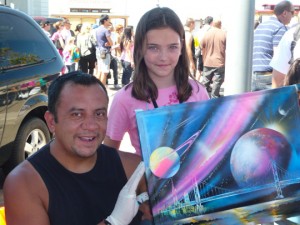 After eating such a huge late breakfast we just ate a snack of an apple and a protein bar so by the time we got back to the hotel that night we were tired and hungry. While I took care of getting my camera equipment from security (they had stored it all day as I didn't want to cary it around) Helen spoke with the concierge about possible eating locations. Sydney wanted Chinese, which was great with Helen and I so he recommended a couple of locations. One place was a block away and being somewhat tired that sounded even better. We call it the Cansler luck (a seemly unrelated series of events that when taken together create something special); when we sat down to eat, this distinguished older gentleman came to our table to take our order. We started to tell him what we wanted and then he stopped us and said "you are vegetarians right?" and we said yes. He then proceeded to take our menus from us and said "Oh you don't need these I am the chef/owner and I will take care of you." Well it was a pleasure to meet Peter Fang and to say that our meal was amazing is an understatement. A series of dishes began to arrive at our table with each one being very different from the last. All I can say is if you are in San Francisco and if you are staying around SFMOMA or Yuerba Buena Gardens, you owe it to yourself to go to Fang Restaurant on Howard Street (in the financial district).