Posted on 02. Feb, 2010 by Cansler Photography in Couples, Portraits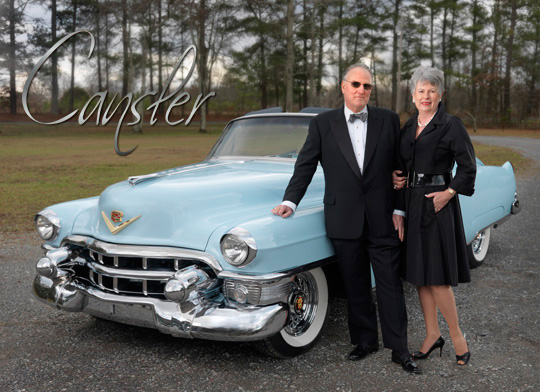 Currently we are working with the Chattanooga Symphony and Opera Orchestra on a major project for the upcoming Oh, What A Night! CSO Guild Gala April 24, 2010. You will have to stay tuned for the lowdown on everything we are working on. Margaret Green from the CSO Guild is my liaison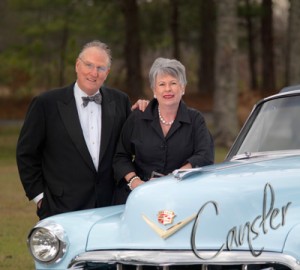 and when she mentioned they were going to need publicity photographs for the Gala, I jumped at the chance to help. That was even before I knew that they wanted to photograph a lovingly restored, 1953 blue Cadillac convertible with Paula & Carl Henderson, the General Chairs of the Gala.
Well, we finally got to do the photographs; Carl and Paula Henderson were very gracious and fun to work with. Chet Tschetter the owner of the car and Jim Oxford owner of Jim's Quality Restorations went out of their way to accommodate my whims. The car is not quite running yet; it dosen't have seats or a soft top but for the look we wanted it was perfect. Anyone of you who has ever had to push one of those old cars out of the mud knows how heavy they are. Jim and Chet with Jim's  crew gamely pushed the car outside and into the position that the cantankerous photographer (me) wanted. They got the angle just right. It was a tad chilly but our world famous models were true professionals in every way. They pretended that it was a warm and balmy day instead of breezy and quite cool.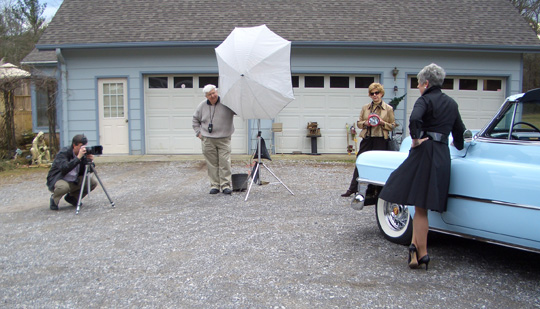 We finished as quickly as possible so Paula and Carl could put their coats back on. A huge thank you to everyone involved. My only regret is that I didn't have a way to take video during the positioning of the car for this posting,  it was fun to watch. Chet Tschetter was kind enough to take a couple of images of  us doing the photographs. Thanks Chet and a big thank you for letting us use your car. If you want to really see the car in all its glory, you're just going to have to attend Oh, What A Night! on April 24, 2010.