Posted on 12. Nov, 2009 by Cansler Photography in Children, Portraits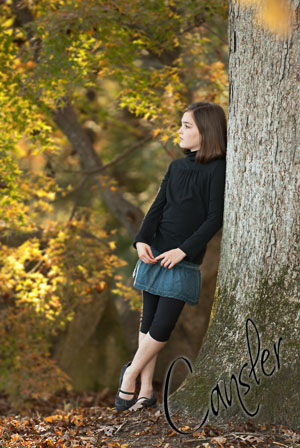 Oh the sad life of a child of a photographer! Poor Sydney she has to put up with getting her photograph taken more than most kids. What is funny is that she will come up with her own ideas that she wants us to do. So I guess it must not be too traumatic for her.
Every year since she was 8 months old we have done photographs in one particular spot not far from our house. There is a couple of beautiful Japanese maples and the lighting is very good. So this year it was time to go back and do a new image.  Mom showed me the clothes and we decided to do the images on Saturday afternoon. I was working as usual but I called about 3:00pm and told the girls to be ready to go. Well when I got home at 3:30pm they were still not ready, something about a 8 year old being slow getting ready.  Geez, it's not like we were going to do formal portraits!
I herded the girls out the door and we drove to the location. The sun was getting ready to slip behind the hill and I only had a couple of minutes to work. Sydney did her thing and we captured several images. It is fun to see the images that we have done over the years in the same spot and to see how different they all look because of lighting, pose and attitude.